A Birmingham Post Special Supplement, Thursday March 19, 1970
An illustrated guide to ATV Centre
When ATV won its franchise to broadcast to the Midlands with a seven-days-a-week contract, it was on the condition that they had a headquarters in the Midlands.
This supplement to the Birmingham Post was published on the day of the official opening by Princess Alexandra.
The Birmingham Post that this was taken from was a broadsheet newspaper, very delicate because of its age, and pages have discoloured over time. It contains, along with these articles, advertisements from the companies who took part in the Centre's construction and equipping (an example below).
This is the main menu - there are links at the bottom of each page to the preceding and succeeding pages, and you can always come back here by clicking on the ATV Centre link on the menus at the top.
Courtesy the Transdiffusion archive.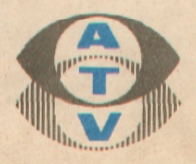 Page I
Ultra-modern Studio Complex Tailored for the Colour Era: An overview of the then brand-new ATV Centre
Page II
Studios Ready to Transmit in Eighteen Months: The architecture of the complex
Another Important Milestone: The Lord Mayor's perspective
Contractor had to meet Tight Deadlines: The difficulties of building a new centre in a limited time
TV Centre is Probably the Most Exciting in the World: by ATV's General Manager
Page III
Friendliness is Part of Lew's Success Secret: A profile of Sir Lew Grade
Well over £2m Spent on Equipping for Colour: The cost of converting to colour; floating floor advantages
Page IV
ATV Programmes from the Past: A look at ATV's output during the 50s and 60s
Doors that Open Silently: How silent doors do not disturb broadcasts
Page V
National and International Successes: ATV's most successful programmes
Keeping Cool in the Heat of Production: How the Centre's air-conditioning works
Potted Profiles: Short resumes of three of ATV's Board members
Page VI
The Back Page: A montage celebrating ATV and colour television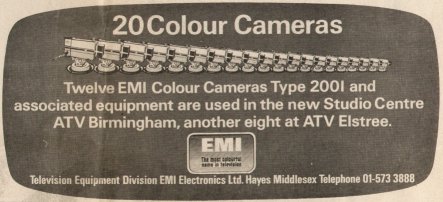 Not connected to the pull-out, we have some more pictures related to ATV Centre.